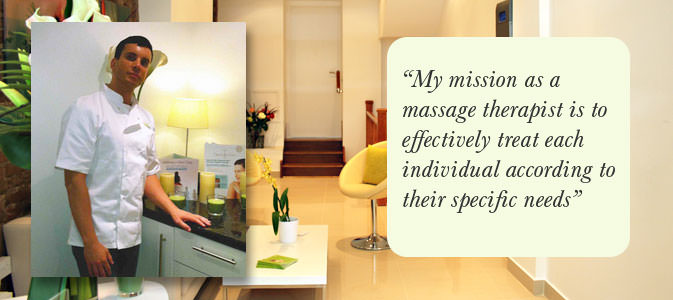 My mission as a massage therapist is to effectively treat each individual according to their specific needs both physical and mental.
Over my 10 years at both Clinica Fiore and my Private Studio I have treated a variety of athlets with sports injuries and rehabilitation as well as anyone who is into fitness or have just recurring problems from sitting at a desk or bad postures: I have also treated clients who want to detox, prevent and reduce water retention/lymphedema, improve and heal a variety of conditions, boost immune system, facial rejuvenation, post liposuction therapy as well as post/pre surgery for a variety of reasons, or simply anyone who just needs a massage to rebalance, relax and improve their sleep and stress levels.
Using a range of techniques I aim to relieve muscular tension, stress, pains, strains, sport injuries, mobility, improve circulation, immune system and detoxification as well as facial and body regeneration, encouraging relaxation, overall vitality and well-being.
I am experienced and qualified to carry out a safe, effective and long lasting treatment and strive to create a calming, safe and therapeutic atmosphere where you can relax, heal and rejuvenate without time pressure: member of and insured by Babtac, I hold Itec qualifications and diplomas accredited by the Federation of Holistic Therapists and Embody. I will always conduct a personalised consultation to find out more about your health history, fitness level, treatment expectations, psychological health and how to incorporate my therapies into your lifestyle. Different massage techniques can be integrated in a single session if possible and at your own preference.
I accept visits at a private location with a fully equipped private home studio in French Place - Shoreditch E1 or at Clinica Fiore, private luxury award winning clinic in Central London Covent Garden WC2.